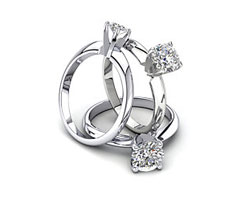 Custom Engagement Rings in Ocala
Engagement rings and bridal sets are often the most important jewelry purchase you will make in your lifetime. If you are looking at engagement rings in Ocala, don't rely on the internet or chain stores. Trust J & J Jewelers to help you make this important purchase. We are a local jeweler who can guide you through every step of the process to ensure you and your loved one end up with the best value and a perfect token of your love for each other.
We Educate Our Customers
One of the most important things we do for our customers purchasing an engagement ring in Ocala, is to educate them. There are many factors that determine a diamond's value.
Carat – This is the size of the diamond, and although it is one of the main factors determining the value of your diamond, is not the only one.
Cut – The cut is the main determinant in the brilliance and sparkle of your diamond. Round cuts generally reflect the light better and appear to be brighter and have more sparkle than other cuts.
Color – Most people think "white" when they think of diamonds. But there are also blue diamonds, pink diamonds, chocolate diamonds, and canary yellow diamonds to name a few. Color is a significant factor in determining a stone's value. When we are talking about traditional white diamonds, those stones without any color or "colorless diamonds" have the greatest value. The exception are pink diamonds which are very rare and generally more expensive. Most colored diamonds, like purple, red, blue and even some canary, are irradiated to give them color. To find a natural colored diamond is rare and usually very pricey! Chocolate and canary yellow diamonds would generally be less expensive.
Clarity – All stones have natural inclusions or imperfections which can affect the way light reflects and also their value. These inclusions make your diamond as unique and identifiable as a fingerprint, and we can teach you how to identify yours.
Local Diamond Experts
We have a variety of diamond resources from around the world where we can obtain loose diamonds of different carats, cuts, clarity and color. Jeff is a diamond expert and can help you shop for the highest quality stone in your budget, and fitting with your design choice. We will set real expectations but will also help you stretch your dollar as far as it can go. Our goal is to provide you with superior information and advice, helping to insure that you are completely happy with your engagement ring and bridal set for years to come.
Selection of Many Styles and Options
Engagement rings, bridal sets, and wedding jewelry is our passion. We carefully select the engagement and bridal collections to ensure that each is of the highest quality. We have a wide selection with many styles ranging from classic to sophisticated, and intricate to modern.
J & J Jewelers wants to help you design the perfect engagement ring in Ocala. Please, contact us today to receive the best diamond value or stop by our store located in the Jasmine Plaza on State Road 200. We'd love to meet you!
Customize Your Dream Ring at J&J Jewelers
Stullers Collection



Greatest selection of individual styles industry wide.
Constantly updated inventory.
Award winning in-house design teams.
Consistent high quality product.
3C and CounterSketch® to help you select your perfect ring.




Diamond
Contemporary Metal
Precious Bond
Fancy
Classic
Anniversary And Eternity




Engagements
Solitaire
Wedding Bands
Guards Wraps and Enhancers
Anniversary and Eternity Bands
3- Stone

Melee and Large Diamonds (no grading report)

Red Box Diamonds (with grading report)




Check out the bestsellers in Stuller's complete collection.