Ocala Jewelry Repair – On-Site Expert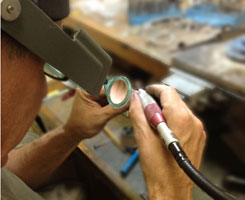 J & J Jewelers is the local Ocala Jewelry Repair Shop that you can trust to clean and repair your family heirlooms and fine jewelry. We can repair broken jewelry, refurbish your estate jewelry, set or remount loose stones, repurpose diamonds and jewels, size your rings, restring pearls and much more. You can even watch Charles work while he cleans your jewelry, sets your stone(s), or does minor repairs by appointment. We are insured so your investment is protected while it is in our care. Clean out your jewelry box and bring it in. We will get you fixed up in no time!
Stone Setting
It is a good idea to have your jewelry cleaned and checked by a qualified jewelry repair specialist on a regular basis. Loose and broken prongs are the number one reason for lost stones. If your prongs often catch on fabric, it's usually because they are worn too thin, like a piece of paper and that's all that's holding the stone in place. Or, it could be that the prongs weren't finished properly. In either case, your stone is most likely not secure and you should get the setting checked. We can tighten your prongs or remount your stones while you wait (with a scheduled appointment).
Ring Sizing
Ring sizing is another same-day jewelry repair that can even be done while you wait (if you have a scheduled appointment). We can easily and safely make your rings larger or smaller. Many times, we have had people ask - What can be done for rings that need to be larger in order to fit over a knuckle, but are too large when on, causing the ring to spin on the finger? There are a couple of practical solutions for this problem. We can replace the band with an adjustable shank that can be made larger when putting on or removing the ring. Another good solution is to use sizing beads on the inside of the band to hold the ring in place. Let us know if this is a problem for you and we can help you decide which option is best.
Estate Jewelry Repair and Refurbishing
Estate jewelry refurbishing constitutes a great portion of our jewelry repair in Ocala. Inherited pieces often have worn or broken prongs, stones that are chipped, and in the case of rings have thin bands and usually don't fit properly. In this condition, an expensive and beautiful piece can look tired and old. We can give your old jewelry a face lift by replacing or cleaning your stones. Often the prongs holding the stones are original and in poor shape. This is the number one reason for lost stones. We can replace the prongs or even the entire head, insuring the security of your family heirloom. When the heirloom is a ring, particularly when it is made of gold, the band is often worn thin and is in danger of breaking. We can re-shank the band, returning it to a secure width and appropriate size. Often the heirloom is in a setting that doesn't display the beauty of the stones, or is a style that differs from the personality of the new owner. We can repurpose the diamonds and jewels, creating new jewelry in settings that are more appealing.
J & J Jewelers wants to be your trusted Ocala jewelry repair shop. Please, contact us to request a quote or stop by our store located in the Jasmine Plaza on State Road 200. We'd love to meet you!